Health & Safety Awareness Training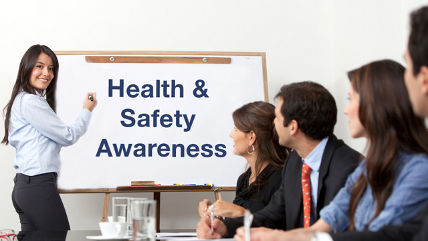 Watch our introductory video
Why do staff need this course?
Employers have a legal responsibility to provide key safety information to staff. Your staff need to understand Health & Safety basics in the workplace. The Health & Safety Awareness Course will deliver exactly that and provide your business with legal compliance.
Who is this course for?
All staff in the workplace
Objectives
This course introduces the candidate to many aspects of the Health & Safety at Work and is intended help raise safety standards and awareness. By the end of the course delegates will know how to manage safety effectively.
Course Content
Introductions & Objectives
Activity 1 - Hazard Spotting
Causes of accidents and ill health
Employee's and Employer's responsibilities
Risk Assessments
Activity 2 - Risk Assessment
Manual Handling
Reporting Injuries, Diseases & Dangerous Occurrences
Provision & use of Workplace Equipment
Display Screen Equipment
First Aid
Personal Protective Equipment
Control of Substances Hazardous to Health (COSHH)
Workplace (Health, Safety & Welfare) Regulations
Fire Safety
Electrical Safety
Course Benefits
The Health & Safety Awareness Course is perfect for delivering the exact amount of safety awareness information to your staff.
There is no time for delegates to get bored because the course is delivered at a high tempo and usually completed within 3 hours.
This Health & Safety Awareness Course is very cost effective - from as little as £33 per person!